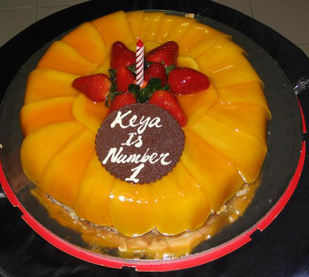 We hosted a grand birthday party for Keya at home. Of course, first birthday parties are more for mom and dad than for the baby, so we had lots of our friends over (and some of Keya's too). Keya wore a chaniya-choli (a gift from her Aaji) and looked like the sweetest little girl ever!
There were three birthday ceremonies. First was Chinese-style - Keya stood on two large pink "pau' (loaves of rice) and then put on two cute little pink baby shoes. Next was Indonesian-style; Keya and Sri aunty cut a mound of Nasi Kuning (yellow rice) which was then distributed among the guests. Finally, I blew out the single candle and Keya cut the birthday cake.
The cake was a gorgeous and *low-sugar* mango cake and instead of the usual "Happy Birthday" message, this one said "Keya is Number 1″. It was her dad's choice; we figured that this would be the only year that we would get to choose the cake, so we chose what we loved best. All the guests praised it a lot.
We also got a height chart for Keya and marked her height on it. She is almost 72 cms tall.